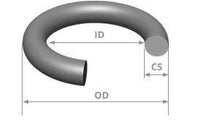 256 N70 Buna-N O-Rings 70 Duro (NBR) 5-3/4"ID X 6"OD X 1/8"CS - 10 Pack
$7.43
SKU: O-256N70-10
5-3/4"ID X 6"OD X 1/8"CS Buna-N O-Rings 70 Duro (NBR) - 10 Pack
Material: Buna-N (NBR) is one of the most commonly used general-purpose O-Ring elastomer compounds because of its relatively low cost, good physical properties and chemical resistance including many basic oils, fuels, and lubricants. The actual name is Acrylonitrile-Butadiene and can be referred to as Buna, Nitrile or NBR.  The standard durometer (hardness) is 70 duro or 90 duro and black in color. The operating temperature range is generally -30° to 250°F*. Buna is not recommended for automotive or aircraft glycol-based brake fluid, halogenated hydrocarbons (carbon tetrachloride, trichloroethylene), ketones (MEK, acetone), nitro hydrocarbons (nitrobenzene, aniline), ozone, phosphate ester-based hydraulic fluids (Skydrol, Fyrquel, Pydraul), strong acids, sunlight, UV or weathering.
Hardness: 70 Durometer Shore A
Color: Black
Operating temperature: -30° to +250° F*

*Operating temperature ranges are approximate and apply to medium hardness (~ 70 durometer Shore A) compounds. Harder or softer compounds will have different temperature ranges.