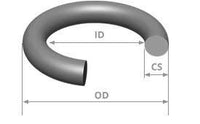 362 F75 Viton® O-Rings 75 Duro 6-1/4"ID X 6-5/8"OD X 3/16"CS - 5 Pack
$37.00
SKU: O-362F75-5
6-1/4"ID X 6-5/8"OD X 3/16"CS Viton® O-Rings 75 Duro - 5 Pack
Material: Fluoro-Elastomer, most commonly referred to as Viton® or FKM, is the second most commonly used O-Ring elastomer compound as it offers outstanding heat stability and excellent resistance to acids, fuels (gasoline, fuels with methanol content), liquefied petroleum gas (LPG), aliphatic hydrocarbons (butane, natural gas, propane), diesel oil, non-flammable hydraulic fluids (HFD), mineral and vegetable oils and greases, silicone oil and grease, aliphatic, aromatic hydrocarbons (benzene, toluene), chlorinated hydrocarbons (trichlorethylene and carbon tetrachloride), chlorine water, and many organic solvents and chemicals.  In addition, Fluoro-Elastomers have very good resistance to aging, weather and ozone.  The standard durometer (hardness) is 75 duro and they are typically black or brown in color. The operating temperature range is generally -20° to 400°F.
Viton® is not recommended for polar solvents, low molecular weight organic solvents and glycol-based brake fluids , anhydrous ammonia, amines, alkalis, brake fluid, super heated steam, low molecular weight esters and ethers. hot hydrofluoric or chlorosulfonic acids and low molecular weight organic acids (formic and acetic acids), skydrol fluids, and ketones (MEK and acetone).
Hardness: 75 Durometer Shore A

Color: Black
Operating temperature: -20° to +400° F*

*Operating temperature ranges are approximate and apply to medium hardness (~ 75 durometer Shore A) compounds.